Sangareddy Municipality is one of the important Municipality which is located near to the Telangana State capital of Hyderabad
About Sangareddy Municipality
Sangareddy, earlier known as Sangareddypeta is the district headquarters of Sangareddy district in the state of Telangana in India. It is 50 km from Hyderabad MGBS bus station and is located on Hyderabad—Mumbai Highway (NH9).
It was named after the ruler Sanga, who was the son of Rani Shankaramba, ruler of Medak during the period of Nizams.
With a population of more than 150,000 it has been graded as 1st grade municipality.
The city has three large-scale public sector industries in its constituency.
These are BHEL (Bharat Heavy Electricals Limited-One of the MAHARATNA companies of Govt. Of India), BDL (Bharat Dynamics Limited, where one of India's most powerful missile PRITHVI was produced), Ordnance Factory Medak (which manufactures the Sarath tanks for the Indian Army).
It is also known for Pathancheruvu which is the biggest industrial corridor in Asia

The city is categorized into Old Sangareddy and New Sangareddy. Old Sangareddy is well-renowned for its bazaars and old district jail, which has been converted to a jail museum.
The roads in the area are quite busy during the festive seasons including Dassera, Diwali, Vinayaka Chaturthi and Ramzan.
The City has got Bus Depot. There are two bus stations in Sangareddy namely, New Bus Stand and Old Bus Stand.
Sangareddy Municipality Information
| | | |
| --- | --- | --- |
| 1 | Name of the ULB | sangareddy |
| 2 | Year of Constitution | 1954 |
| 3 | Area ( in Sq.kms) | 13.67Sq.km |
| 4 | Distance from Capital ( in kms) | 5Km |
| 5 | Number of Municipal Wards/Divisions | 31 |
| 6 | Number of Revenue Wards/Divisions | 6 |
| 7 | Total Population as per Census 2011 | 72,395 |
| 8 | Male Population as per 2011 Census | 36,777 |
| 9 | Female Population as per 2011 Census | 35,618 |
| 10 | Households as per Census 2011 (Number) | 11,671 |
| 11 | Population as per Census 2001 (Number) | 57,113 |
| 12 | Male Population as per 2001 Census | 34,268 |
| 13 | Female Population as per 2001 Census | 22,845 |
| 14 | Households as per Census 2001 (Number) | |
| 15 | No of house hold as per 2014 (Intensive House Hold Survey) | |
| 16 | Projected Population as on date (Number) | |
| 17 | Number of Mee Seva Centers | 8 |
| 18 | No of E-seva centers | 1 |
| 19 | Number of Municipal Service Centres | |
| 20 | Longtitude | |
| 21 | Latitude | |
| 22 | Total Income per annum during 2014-2015 (rupees in crores) | |
| 23 | Total Expenditure per annum during 2014-2015 (rupees in crores) | |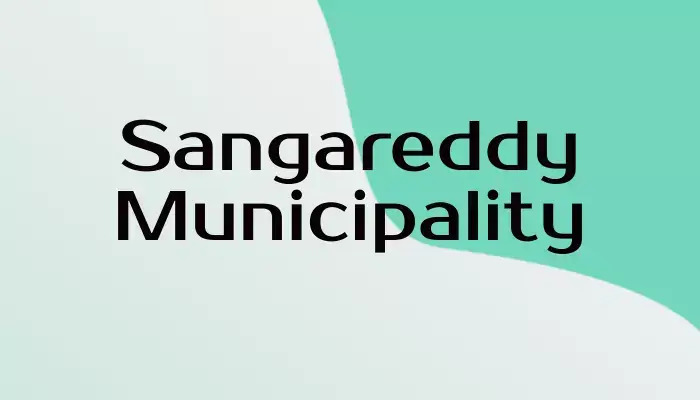 Directory of Staff
1 General Administration Section
Sl. No.
Designation of officers/employees
Name
Phone No.
1
2
3
4
2
Commissioner
Dr.Vasam. Venkateswarlu
–
3
Manager
JHON KRUPAKAR(incharg)
9676990606
4
Senior Assistants
P.VENKAT RAO
9849907770
5
P.JANARDHANREDDY
8978581104
6
Junior Assistants
MOHD.GOUSE
8978581102
7
B.RAMESH
9849908016
8
B.SANJEEV KUMAR
7386685929
9
N.PRAVEEN KUMAR
9000005763
2 Engineering Section
Sl. No.
Designation of officers/employees
Name
Phone No.
1
Executive Engineer
2
Deputy Executive Engineers
K.DHARMA REDDY
9908516008
3
Assistant Engineers
RAJA MAHESH
9849906802
3 Town Planning Section
Sl. No.
Designation of officers/employees
Name
Phone No.
1
Town planning officer
2
Town Planning Supervisors
N.RAJENDERA PRASAD
9849697109
3
Town Planning Building Overseer
1
2
4 Health Section
Sl. No.
Designation of officers/employees
Name
Phone No.
1
2
3
4
1
Municipal Health Officer
2
Sanitary Supervisors
3
Sanitary Inspectors
R VENKAT RAO(INCHARGE)
9849907770
4
Health Assistants
5 Revenue Section
Sl. No.
Designation of officers/employees
Name
Phone No.
1
2
3
4
1
Revenue Officer
JHON KRUPAKAR
9676990606
2
Revenue/Tax Inspector
P.VENKAT RAO
9849907770
3
Bill Collector
B.GIRI PRASAD
9908775748
6 Accounts Section
Sl. No.
Designation of officers/employees
Name
Phone No.
1
2
3
4
1
Accountant
G.RAJU
9676700303
7 Urban Community Development (UCD) Section
Sl. No.
Designation of officers/employees
Name
Phone No.
1
2
3
4
1
Project Officer / Town Project Officer
2
Community Organiser
G.RAMADEVI
There are many industrial parks and other tourist attractions in the jurisdiction of Sangareddy Municipality. For more information, please visit official government website on sangareddy.telangana.gov.in